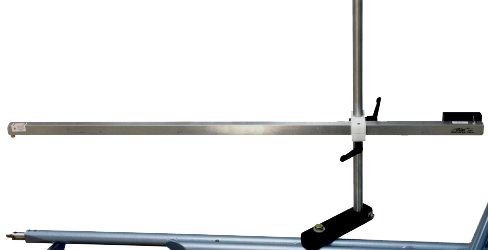 Advanced Lathe Tools laser assembly can be mounted on most boring systems. Our laser features ultra-lightweight construction to help eliminate vibration errors that can ruin your day when you are trying to turn a thin walled deep hollow vessel. We use a very small laser element to minimize the tip weight for the same reason. We put the long lasting AA batteries at the opposite end from the laser to further reduce the tip weight. The vertical column can be offset from the boring bar to allow clearance for the vessel's throat and the steady rest. It is possible to extend the laser more than 36" beyond the tool rest, using the offset bar. Independent vertical and horizontal clamps make it easy to set one adjustment without disturbing the other.
Adjustable for any vessel up to 30" diameter and 36" deep (36″ size).
Round vertical column and square horizontal beam make adjusting the laser simple, easy and secure.
Simple mounting method can be easily adapted to most boring bar systems.
Shorter 24″ beam available for shorter boring bars.
Two AA batteries last a long time and are inexpensive to replace.
Sturdy construction for a lifetime of use.
(24" or 36" beam)