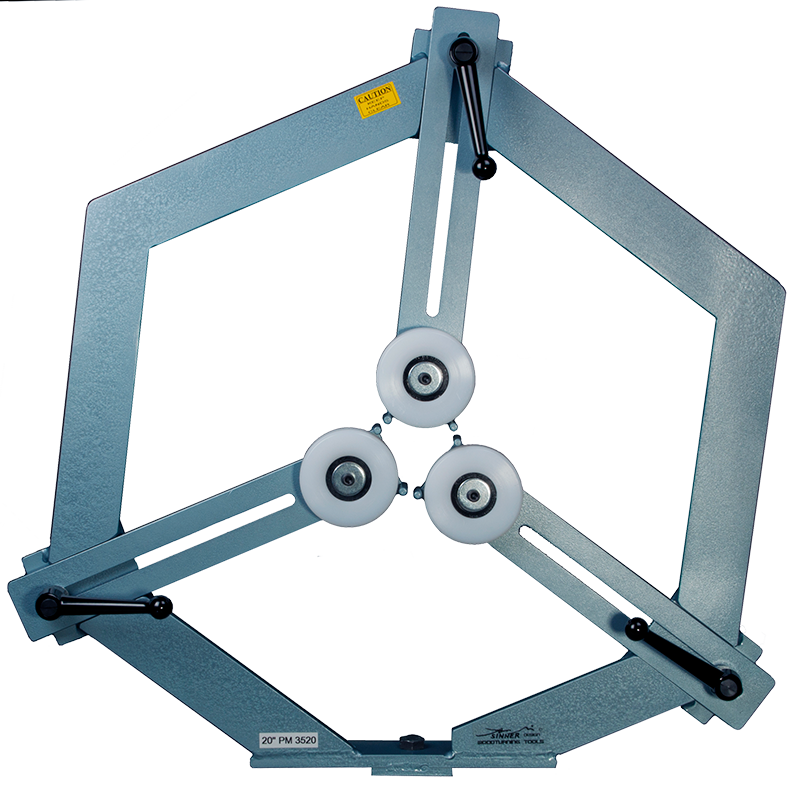 Advanced Lathe Tools center steadies feature an exclusive seven degree offset which moves the top spoke out of the way when a laser is used. Heavy duty industrial type bearings were chosen to withstand the beating you'll give them when starting out on those large bolts of out-of-balance green wood. We make our own wheels from UHMW; three inches diameter for the larger sizes of steady, two inches for the smaller ones. UHMW is much stiffer than roller blade wheels, giving our steadies greater resistance to vibration from flexing wheels. Adjusting handles are of the highest quality. The hexagonal frame of our steadies offers improved clearance for turning diameters approaching the capacity of the lathe. We originated the widely copied guards to help keep your hands and fingers out of danger.
Exclusive seven degree offset for laser clearance.
Industrial bearings for heavy out-of-balance loads.
UHMW wheels for reduced flex and vibration.
Hexagonal frame for increased clearance.
Top quality adjustable handles for securely locking the spokes in place.
10" (2" wheels) 
12" (2" wheels) 
16" (2" wheels)
18" (3"wheels) 
20" (3" wheels) 
24" (3" wheels)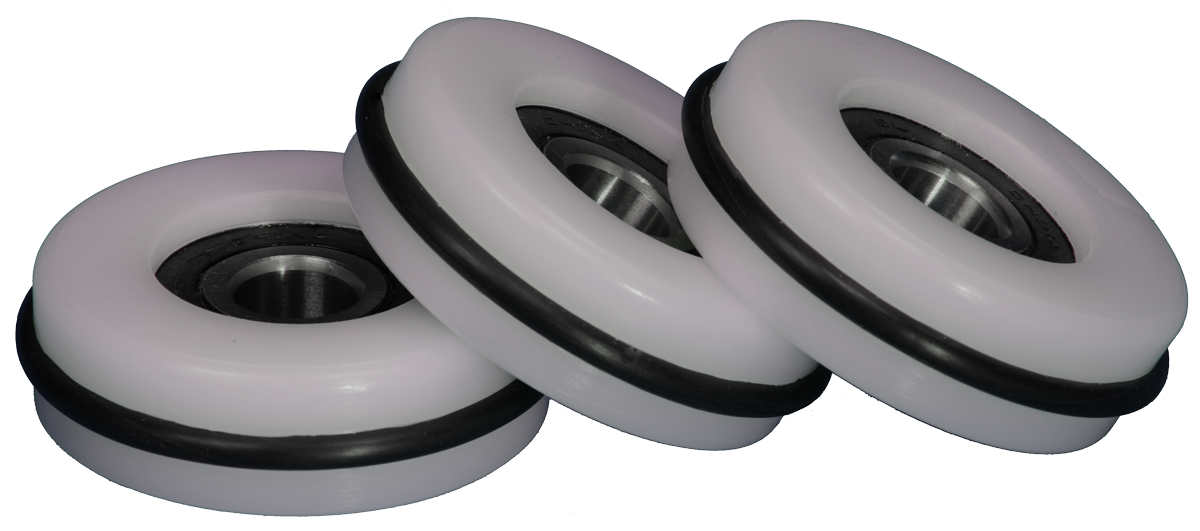 If you need soft wheels, we offer these Hall Wheels, made with a replaceable o-ring set into the edge of the wheel. 3″ wheels for 20″ and 24″ steadies and 2″ wheels for the others. Caution – these wheels will reduce the effectiveness of the finger guards on your steady.
We call them "Hall Wheels" because Rick Hall of Arizona gave us the idea.
2" Wheels with bearings
3" Wheels with bearings
2″ Hall Wheels, set of 3
3″ Hall Wheels, set of 3