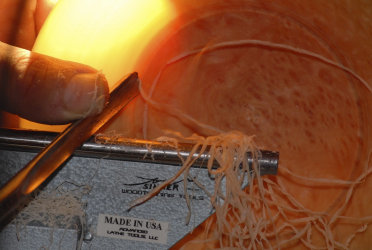 Michael Hosaluk using one of our rests to turn a thin bowl at Desert Woodturning Roundup, Mesa, AZ, 2013. (Photo by Ed Pabst)
THE ORIGINAL HARDENED TOP ROD TOOL RESTS!
Advanced Lathe Tools tool rests are designed to give a lifetime of use without the normal wear and tear associated with other rests. The 3/8" top rod is case hardened. Every rest is designed to provide a smooth, strong and stable support for your turning tools.
Exclusive 3/8" case hardened top rod.
Top rod fitted into a milled cove on rod support (another exclusive design feature!).
Heavy construction to minimize vibration.
Design allows a variety of grip styles.
All TIG welded construction for strength and security.
These are the rests preferred by Michael Hosaluk, Bonnie Klein and many other professional turners!
"I like the way this tool rest gives me the ability to use my gouge at just about any angle – especially helpful for shear scraping. It also has a very stout feel to it. The hardened top rod is really nice because I don't have to worry about dressing the rest."
Boring Rest (flat top w/guide pin)
Standard 3" (1" post)
Standard 6" (1" post)
Standard 9" (1" post)
Standard 12" (1" post)
Standard 14" (1" post)
Standard 16" (1" post)
Standard 22" (1" post)
Mini 3" (5/8" post)
Mini 6" (5/8" post)
Mini 9" (5/8" post)
Standard Finial Rest 6" (1" post)
Mini Finial Rest 6" (5/8" post)
(See video on this page for details.)