Advanced Lathe Tools boring bars are stiffer and more massive than any comparable size boring bar.
This means that you can turn much farther over the tool rest with our bars. We weld our outrigger directly to the bar, greatly reducing the overall width of the bar and giving you an improved range of horizontal swing. We include a 3/16" scraper mounted in a dual angle holder for straight or offset turning. Our boring bars really work best when used with guarded ring cutters such as the Munro Hollower II, however. Using one of these cutters in our 1 1/4" boring bar, you will be able to turn 33" over the tool rest in dry hard maple. Our bars are bored for 5/8" tools (3/4" bar limited to ½" tools), and come equipped with a brass bushing that will accommodate ½" tools . There is an almost limitless number of third party cutting and scraping tools that will fit in our bars. The back end of the bar is drilled for the included safety pin which prevents accidentally pulling the bar through the trap.
Boring Bar capacities are dependent on many factors. The most important are the species of wood, moisture content, type of cutter or scraper, amount of edge presented to the wood, and lathe speed. The following capacities are provided for purposes of comparison; actual capacities may vary. Lengths are nominal. Single length is the front end of the bar up to the point of doubling.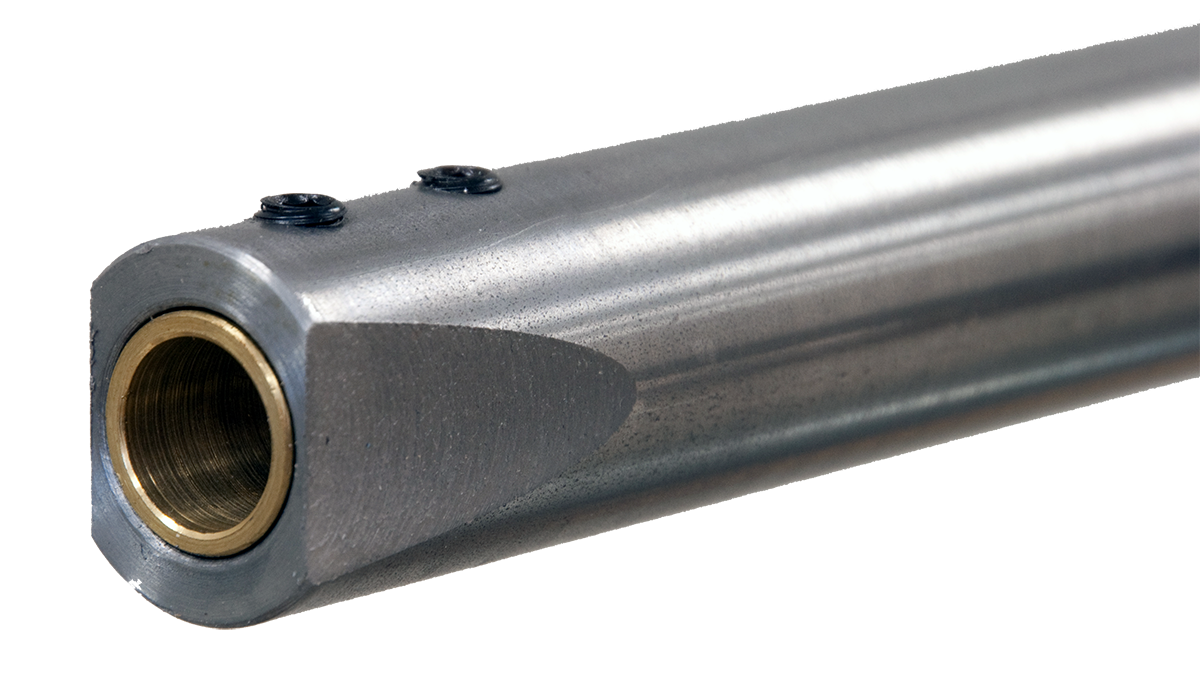 Exclusive design provides greater stiffness and mass, reducing vibration and increasing capacity.
Drilled and tapped for laser use.
Design allows a variety of tools to be used interchangeably.
TIG welded construction for strength and stability.
Compact and easy to store.
Bushing, set screws, scraper, scraper holder and safety pin included.
Average Depth Capacities for Advanced Lathe Tools Boring Bars:
| | | |
| --- | --- | --- |
| BAR | DEPTH CAP. | LENGTH |
| 3/4″ | 12″ | (32" long, 8" single length) |
| 1″ | 16″ | (44" long, 10" single length) |
| 1 1/8″ | 24″ | (58" long, 12" single length) |
| 1 1/4″ | 33″ | (78" long, 14" single length) |